Your dad invested a lot in you. He probably didn't know quite how much you were going to mean to him until that very first moment that he held tiny you in his arms. From then on out, you were probably a collective bundle of trouble and joy. So we reckon you have a good few reasons to say thanks to Dad this Father's Day. Because those grey hairs (or silver) didn't get there on their own, we put together a little list of reminders, misgivings and suggestions on how best to make it up to dad this year, because we know and you know – you owe him big time.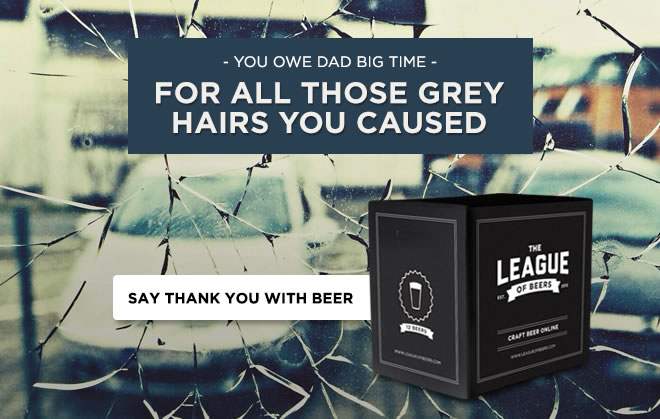 For being a wildly naughty kid
Whether you ripped off your sister's barbie doll heads and covered them in ketchup in your war soldier games, coloured the hallway walls in technicolour crayons or redecorated the lounge with your unique toilet paper design, you can bet your bottom dollar that sharing a case of beers with your dad while you reminisce over the joys of kids, would be a pretty great way to say 'thanks for putting up with me'.
We think Dad deserves the Wild Card Mixed Case for stories like these.
For breaking all the things through adolescence
Most of us will have a story involving some sort of shattered glass, be it a cricket ball through the window, banging inter-leading doors because the teenage angst made you do it or smashing a chandelier into smithereens because you were playing He-Man and She-Ra with your older brother, you can be sure this kind of naughty requires a gift with thought.
We think Dad deserves specialist Spiegelau Beer Glasses for the glass you're still apologising for breaking.
For savings Dad shelled out for you
He probably wouldn't do it any other way, but all the reasons why dad willingly opened his wallet for you, for the limo ride to your high school dance, the petrol for your first chorrie, the guitar lessons you just had to have, school fees, your education and maybe even your wedding day, dads the world over deserve something extra special for that kind of spoiling.
We think Dad deserves to get beer for a year (and be in the League of Beers monthly club) so he can be part of a club other than the DadBank.
Some more gift ideas for Dad this Father's Day
There's no real way to make up for all those silver hairs, and truth be told Dad probably wouldn't have it any other way, but saying thank you and upgrading dad from silver to gold, is a great way to say thank you to pop.
For being less than an angel: La Trap Trappist Gift Pack
Were you a relentless terror? Cisco brewers Del's Relentless Session IPA
A single minded hazard, maybe? Something from our exclusive Single Pack Beers
So think long and hard.What do you owe dad for big time? Tell us your stories and we'll help find the perfect craft beer gift.
Originally written for and published on League of Beers.com as part of a Father's Day Campaign.